ALL ABOUT WOODCHUCKS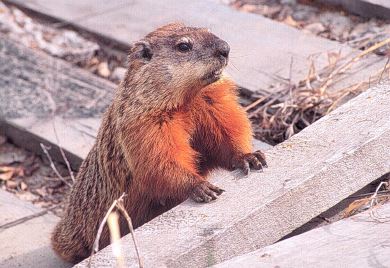 Why woodchucks? I like woodchucks. Woodchucks get a raw deal. We build on top of their houses (without their permission, I might add), and then we remove the woodchucks because their houses happen to have holes. We plant a woodchuck's favorite foods in their backyard and then shoot them when they try to eat it. This is not civil behavior. Click here to see the response they are preparing.


This is a page to honor woodchucks. Thankfully, they have their own holiday which, in my world, is known as The Feast of St. Chuck. I always wondered how St. Chuck came to be so despised, but a Mother Goose and Grimm cartoon from Feb. 9, 2009 cleared up the mystery. Since understanding history is so important, they gave me permission to post their explanation on this site.




If you would like to involve your church in turning around this unpleasant state of affairs, encourage the use of this hymn, written by the Rev. Richard Garland just for me and my woodchuck-loving friends. A chapter of my new book, God With Skin On, has a chapter devoted to the importance of God with fur on.



You can click here to view St. Chuck himself, Punxsatawney Phil, who graciously predicts the weather for America every February 2. You can also visit his website at www.groundhog.org. Now you know what woodchucks do down in their holes. They build websites. You can find out more about the nature and habits of woodchucks by clicking here.

For some theological reflection about woodchucks and other creatures we like to call "pests," you can read my article "On Pests, Predators, and Stewardship" published by Zion's Herald magazine. That article will tell you of my early history with woodchucks, and you can click here to read about what happened when the Trustees of St. John's United Methodist Church tried to remove the woodchucks from church property.

As we say on the Feast of St. Chuck, "Viva la Rodent!"




Please visit these other interesting woodchuck and groundhog sites.

Send a free woodchuck e-card!
The Wily Woodchucks: A DVD adaptation of a charming out-of-print picture book.
Woodchuck Heaven
Hog Haven
The Marmot Burrow
Michael D. Wittmer's Giant Marmots

VOTE FOR CHARITY